Kentucky Coal Museum
The Kentucky Coal Museum opened in 1990 and is located in the four story brick structure in Benham which served as the mining community s company store. Not only does the museum tell the story of coal, it reflects on the miners lifestyle what it meant to live in the closely protected confines of a mountain community, what the schools and churches were like, and the ways in which mining families entertained themselves. The museum contains exhibits on four levels: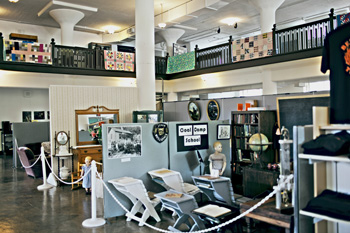 1st Level Main Level
Learn about the creation of coal in Appalachia some 400 million years ago as well as about the way in which coal seams as many as eight in some areas of Black Mountain run almost parallel to the surface; cutaways allow for replicas of nearby mountains to reveal where the seams of coal are and, often, how much of it may have already been mined. The museum also has several exhibits that depict the home life of mining families, including exhibits (circa 1930) that show a completely furnished kitchen, living room and bedroom. Adding to the sense of realism is a barber shop, a typical scene from a commissary, a classroom, and a hospital.

2nd Level Mezzanine
This level contains several framed, black and white photographs that show the community of Benham during its formative years. Additional exhibits focus on mine safety and rescue, the importance of railroads (particularly L&N) to the region, and a lifestyle section that focuses on African Americans in the Coal Camp. A large quilt exhibit and a scrapbook area with photos of places and people in the region are also on the mezzanine.

3rd Level Loretta Lynn Exhibit
Loretta Lynn and her late husband Doolittle travelled to Benham prior the opening of the museum to give their blessing to its Coal Miner s Daughter exhibit that is highlighted by replicas of the Butcher Hollow Home Place Front Porch, Maggard s General Store, and the Coal Company Business Office. Adding to the authenticity of the experience are a moonshine still, rooms of furniture typical of the time when Ms. Lynn grew up in Johnson County, several gowns worn by her during performances and six paintings of Ms. Lynn, her husband and other performers by renowned regional artist, Jeff Chapman Crane.

Basement Level
Enter the realistically-constructed, 54 high mock mine that simulates the underground mining experience. See exhibits that include a miner with a breast auger, a fully loaded coal car and rail scooter, mine timber construction, railroad and engineering areas, and a dinner hole, where miners ate. The mock mine is enthusiastically enjoyed by school students. The mock miners don their hard hats before going underground.